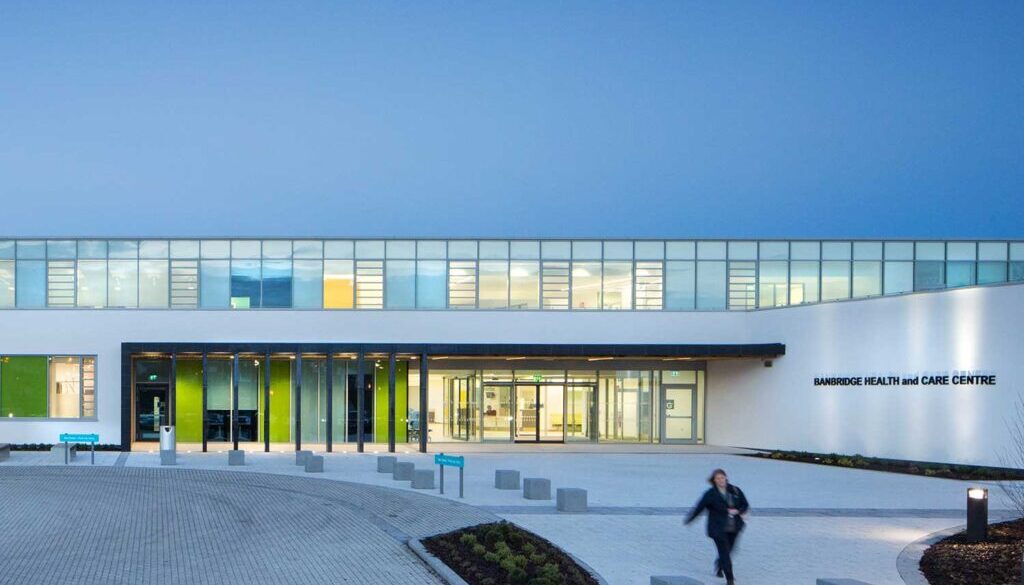 Northern Ireland
This winner of both the RIBA National Award 2016 and the RIBA Northern Ireland Regional Award 2016 is a distinctive modern structure which makes  maximum use of natural light to enhance the sense of space and visual interest. The Centre provides a wide range of medical facilities, from specialist nursing, occupational & speech therapy, through to rehabilitation, clinical consultation and accommodation. As an integral part of the mechanical services to the building, Kennedy FitzGerald specified natural ventilation using double-glazed louvres to complement the natural lighting effect, as well as a sustainable approach to maintaining a comfortable environment.
Crossflow Ltd, the specialist ventilation contractor, selected Fieger FLW 28 units to meet the requirements.
A total of 94 vents were installed complete with D+H LDF motors, programmed to prevent trapping. In addition, the vents were manufactured with Saint-Gobain Cool-Lite SKN 165 solar protective glazing and a polyester powder  finish to the framework.
A key characteristic of the vents is the energy efficient design, achieved by the class-leading low air leakage rate, together with low U-values. Commenting on the installation Damien Day, Associate at Kennedy FitzGerald, said: "FIEGER glazed louvres efficiently achieved natural ventilation levels via vertical panels whilst complying with window opening restriction requirements. Window vent fenestration was restricted to this panel, maximising the amount of  fenestration free glazed viewing panels. Building users who are standing or seated therefore have uninterrupted views of planting and landscape in keeping with the    architectural vision for the   project. "