FIEGER louvre windows
Drives, accessories and support
We offer a comprehensive range of accessories to ensure that your FIEGER louvre windows suit your project specific your requirements and perform to your exacting specifications. We have a large variety of drive types available, with one certain to match your expectations, all supplied with precisely designed parts to suit the louvre operation.
Let us advise you: We have compiled various information leaflets for you, all available right here on our website, and we will be glad to provide personal assistance with your design, specification, implementation and future maintenance.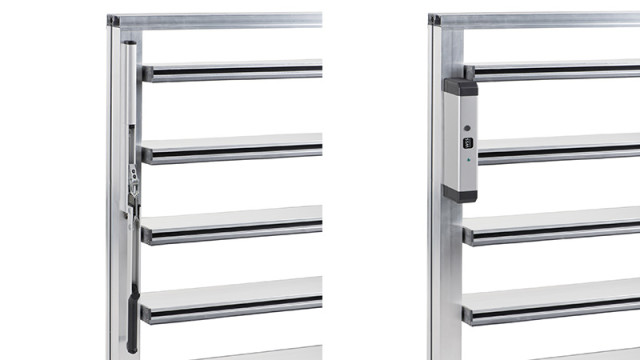 Electric, pneumatic and manual actuators from various manufacturers are available for all FIEGER louvre windows. The actuators we recommend are made to the highest to standards and are delivered to us fully assembled, having undergone rigorous testing. Our sophisticated, patented rack-and-pinion mechanism can open up to 3 sq.m. of window surface depending on the product type and actuator.
Which drives are a good fit for my window?
Even more possibilities with accessories
When combined with our range of accessories, you can achieve your concepts for natural ventilation, smoke ventilation and energy conservation even more effectively.
Horizontal security bars for improved security and safety
Stainless steel horizontal security bars can be supplied as an integral part of our louvre windows. These increase security, and an be configured to trigger an alarm if removed.
Crossbars can also be used to reduce the clear opening sizes between the louvre blades. We are able to achieve clear openings <100mm.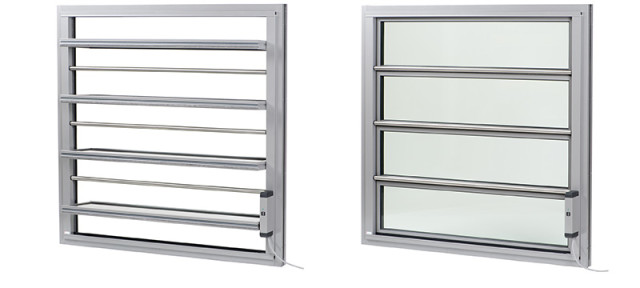 Additional components are available, such as:
DO YOU HAVE PROJECT SPECIFIC OR BESPOKE REQUIREMENTS THAT YOU NEED GUIDANCE WITH?
LET US ADVISE YOU:
info@fieger.co.uk
+44 1793 676450
FIEGER Services and Support, to make your life easier and your buildings safer
WE CAN MAKE YOUR LIFE EASIER. GET IN TOUCH WITH US TO SEE HOW WE CAN HELP.
info@fieger.co.uk
+44 1793 676450