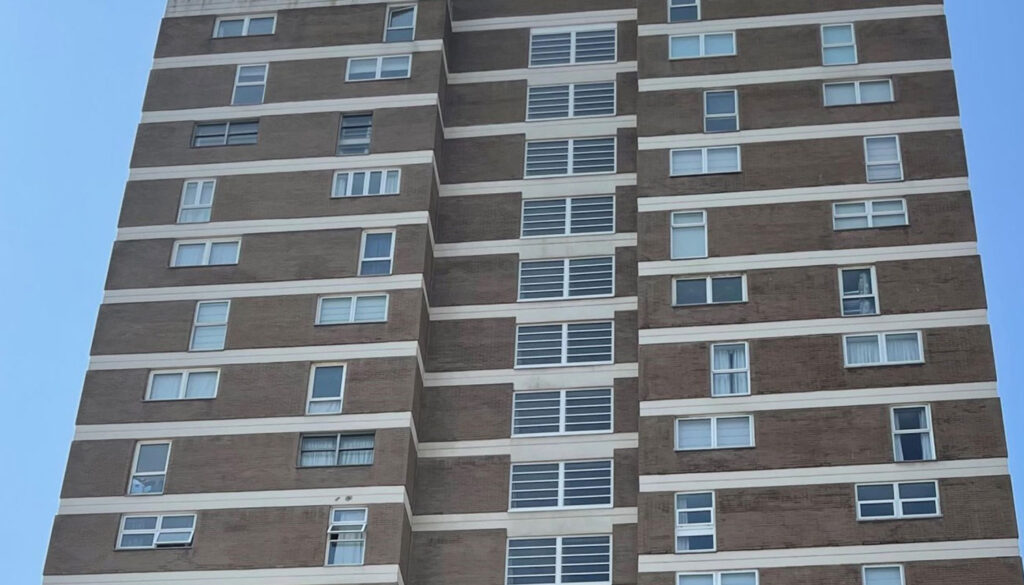 Brighton
A key part of the refurbishment of this residential tower block, originally opened in 1968, was to replace the smoke ventilation system, which comprised single-glazed louvres at each floor level. Chartwell Court Ltd engaged chartered building surveyors, Overill Associates, and Shaws Installations Ltd to carry out the complete works. The brief was not only to raise the safety standards, but to also enhance the quality of life for residents through a superior visual appearance and a more comfortable environment, especially in winter.
To meet the combined requirements of Approved Document B and Approved Document K, Fieger Louvre Windows were selected.
The smoke vents comprise 5 no. double-glazed louvres, which provide the 1.5 m2 geometric free area required by The Building Regulations. In view of the location, the vents were supplied with a marine grade polyester powder matt finish to RAL 9010.
A total of 18 no. Fieger SmoTec vents, tested in accordance with EN 12101-2, were installed to provide emergency smoke control to the end of each corridor. The vents were fitted with D+H LDF 100-70 24V DC motors, programmed for anti-trapping, and wired to the building control system by T K Installations. A further 18 no. vents were installed with fixed louvres to complement the visual effect. The louvres are double-glazed with a toughened element outside and laminated inside to comply with Approved Document K. An overall U-value of 1.90 W/m2 K was achieved, which with a Class 4 tested air leakage rate provides a highly energy efficient feature of the refurbishment.