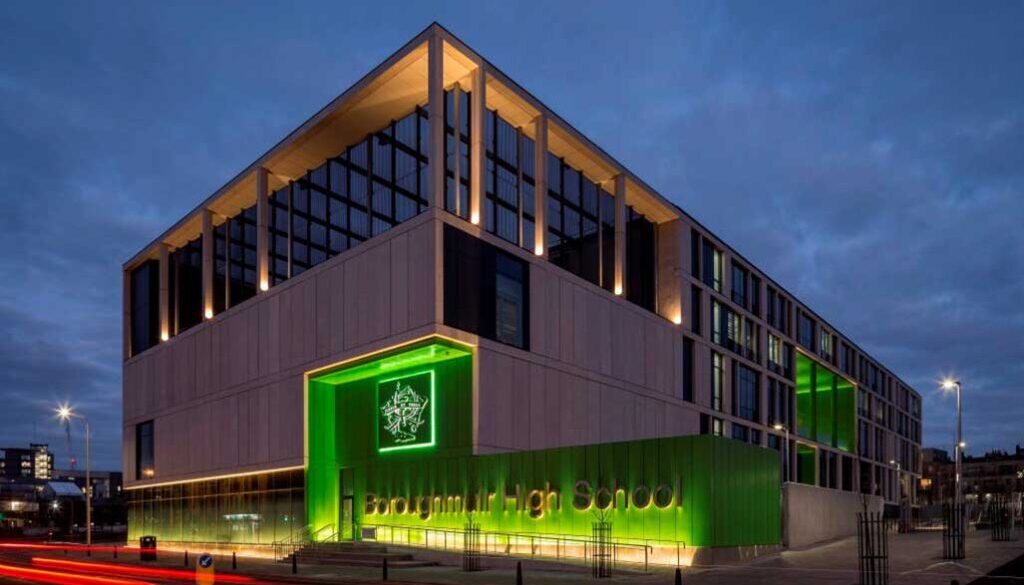 The City of Edinburgh Council
This striking new design by Allan Murray Architects, which occupies a former brownfield site provides a purpose-built learning facility for 1165 pupils. The teaching areas are arranged around a central top-lit atrium, which acts as a connecting core to all of the faculties. A key feature of the design is the maximum use of natural light to enhance the sense of space and well-being.
As an integral part of the mechanical services to the building, the design team led by Allan Murray Architects specified a natural ventilation system, using double-glazed louvres to complement the natural lighting effect, as well as a sustainable approach to maintaining a comfortable environment.
O'Hare & McGovern Ltd, the main contractor, selected Fieger FLW 28 units to meet the requirements and a total of 77 vents were installed complete with Saint-Gobain Cool-Lite SKN 165 solar protective glazing. Due to concerns about traffic noise from the nearby Dundee Street, a 40 dB acoustic foil was included in the external laminated pane.
Awarded "Building of the Year 2018" by the Edinburgh Architectural Association
RIBA National Award 2018 Winner
At high level in both sides of the central atrium, Fieger louvre vents with insulated aluminium blades were installed to provide day-to-day ventilation. These are fitted to both sides to allow for variations in prevailing wind conditions. The vents were manufactured with a polyester powder finish to the framework: RAL 7024 to the glazed louvre vents and RAL 9006  to the Atrium vents. A key characteristic of the vents is the energy efficient design, achieved by the class-leading low air leakage rate, together with low U-values.