Projets réalisés
avec des fenêtres à lames FIEGER
Laissez-vous inspirer : vous trouverez ici les références de projets de construction réalisés avec des fenêtres à lames FIEGER. Un grand nombre des systèmes de fenêtres présentés ont été réalisés à l'aide de nos produits standards.
Vous trouverez également nos réalisations les plus remarquables en matière de design et de constructions spéciales. Grâce à une collaboration étroite avec des architectes et des planificateurs, nous avons parfois été amenés à développer des solutions insolites, mais toujours esthétiques et hautement fonctionnelles. La polyvalence de nos lames pourrait bien vous surprendre.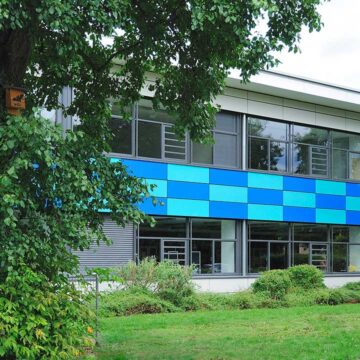 Environmental
School
The awarding of the title "Environmental School" by the German Society for Environmental Education confirmed that the Geschwister-Scholl-Schule in Bensheim teaches environmental awareness in an exemplary way, and strives to protect the environment by saving energy. During the building extensions and renovations, FIEGER louvre windows were installed into the façades. The bespoke design of FIEGER louvre vents enabled us to meet the individual requirements of the building and the occupants.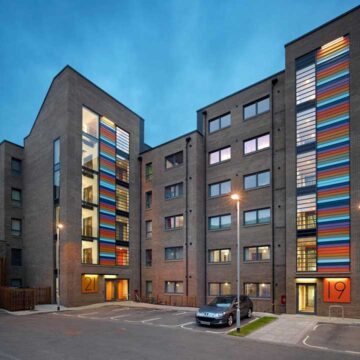 Residential Development
The large residential development of Park View in Govan, Glasgow resulted from a partnership between Govan Housing Association and Cruden Estates Ltd. DO Architecture Ltd of Glasgow were engaged to produce an innovative, whilst also incorporating features of traditional local architecture.
The architectural requirement was to create a continuous louvre appearance up the height of the stairwell, to compliment the building aesthetics and enhance the overall design.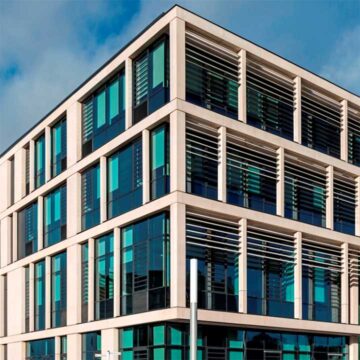 High
School
As an integral part of the mechanical services to the Boroughmuir High School in Edinburgh, the design team led by Allan Murray Architects specified a natural ventilation system, using double-glazed louvres to complement the natural lighting effect, as well as a sustainable approach to maintaining a comfortable environment. O'Hare & McGovern Ltd, the main contractor, selected FIEGER FLW 28 units to meet the requirements. Due to concerns about traffic noise, a 40 dB acoustic foil was included in the external laminated pane.